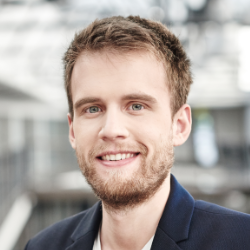 In 2014, Benjamin moved to Estonia, determined to understand how and what the Estonians did to establish their world leadership in digital society and government.
From 2014 to 2015, he completed his studies in Mechanical Engineering as part of the Erasmus Partnership that he set up between the Tallinn Tech and Université Lyon 1.
While studying, he founded his own startup in Estonia - a new type of social platform, Tree [2014-2017] - together with Antoine Fossey.
In the following years Benjamin joined multiple promising startups, including Pipedrive (which became a unicorn in 2021) and Sixfold, a real-time visibility platform, where he was one of the first employees.
In 2019, Benjamin became the youngest CCEF in the world.
Throughout the years Benjamin has consulted two French ambassadors to Estonia: Claudia Delmas-Scherer and Éric Lamouroux as well as met with multiple French politicians and public servants, among which: Fleur Pellerin, Axelle Lemaire and Come Berbain.
Benjamin currently works for the Finnish-American startup Robocorp as an Engineering Lead.
On a more personal side, Benjamin speaks Estonian (B1), owns an apartment in the center of Tallinn and is engaged to an Estonian. Together they are the biggest Digital Creator for local travelling: Eesti Paigad.
Benjamin's combination of skills and experience allows him to provide unique insights into understanding Estonia and Estonians from a French perspective as well as how these two cultures can benefit from each other.
Starting from 2022, Benjamin offers consultation services
Back